A government institution, Bandari Maritime Academy has released an announcement on the vacancies with up to Ksh500,000 salary.
On October 18, the above mentioned institution unveiled the list of managerial positions that were up for grabs from its Chief Executive Officer slot.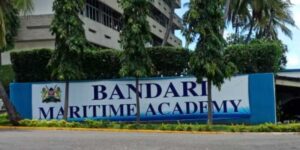 In the advert, those who will be the CEO will be entitled to a basic salary scale of between Ksh290,000 and Ksh490,000 with a house allowance of Ksh80,000 for three years.
With the deputy directors representing both the maritime education and training and corporate services will pocket a basic monthly salary of Ksh245,000 and Ksh449,000 with a house allowance of Ksh70,000 and a commuter allowance of Ksh24,000.
The above corporation secretary and head of legal services slot will be entitled to a monthly remuneration of between Ksh245,500 and Ksh449,500, as well as that of the registrar.
The Assistant director's position attracts between Ksh170,500 and Ksh373,500 monthly pay and a Ksh35,000 house allowance.
The above post has four vacancies covering
internal audit,
finance,
supply chain management
information communication technology.
The other remaining positions are senior principal trainers (monthly basic pay of between Ksh170,500 and Ksh373,500) and quality assurance officer (between Ksh115,500 and Ksh285,000), among others.
*How to Apply*
All the interested candidates are advised to send their applications before Monday, November 7, at 5:00 p.m.
Those who wish to drop hard copies, all applications must be addressed to the acting director of the academy and include the institution's Mombasa postal address.
For the soft copy applications, the application must be sent in pdf format with application forms available on the institution's website.
completed application form should be accompanied by a detailed CV (with at least three referees) and copies of academic and professional certificates to be emailed to recruitment@bma.ac.ke.