Another dormitory destroyed by fire. The incident comes barely a day after a fire at Riokindo Girls High School destroyed the dormitories.
The school dormitory was destroyed by fire last night. The fire is said to have started around midnight, when the students had withdrawn from classes to their dormitories after evening studies.
The area chief, Caren Onyango, Kobura locality chief, while confirming the incident, said nothing was saved from the hostel. All the things for the girls lay in ashes by the fire.
According to the local administration, efforts to save the girls' personal belongings were futile. Locals and students tried to put out the fire but failed.
Firefighters from the Kisumu Fire Brigade did not arrive in time to put out the fire. Their late arrival is attributed to the great distance. When they arrived at the scene, they found that the fire had engulfed the entire building.
Carren Onyango, the area chief further reported that no casualties were reported but a number of girls sustained some minor injuries as they fled the burning hostel.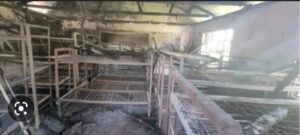 The girls who sustained injuries were taken to a nearby district hospital where they were treated and released.
The cause of the fire has not yet been determined. The extent of the damage has yet to be determined by the school management.
Another hostel destroyed by fire after the riokindo girls incident. Over 500 students were accommodated in the gutted dormitory. The fire broke out at night and the girls panicked.
According to newly revealed information, the fire was started by electric poles hanging erratically near the tracks.
Some students were affected by the incident and were taken to Kisii County Referral Hospital for treatment and monitoring.
The principal of Riokondi Girls High School has assured the public that the institution plans to repair the equipment lost in the fire and return things to normal as soon as possible.