Kenya is a developing country and is working hard to ensure its citizens live comfortably and enjoy their citizenship. Today, the government has many educated citizens.
This is because the government allocates a lot of funds to the education sector every year through loans and scholarships. This step allows some people to achieve their educational dreams.
The Teachers Service Commission is a government employee who employs teachers. Currently, the commission is dealing with the issue of signing employment forms and sending teachers to secondary schools, after the Teachers' Service Commission recruited nearly thirty thousand teachers.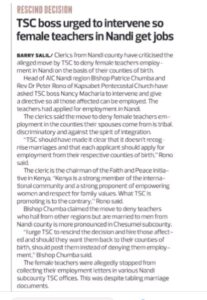 The Chief Executive Officer of Teacher Service Commission, Ms. Nancy Macharia, is expected to comment on the latest issue in the recruitment process. It is reported that some teachers of Nandi district were prevented from collecting employment documents from the TSC office even though they had submitted their marriage documents.
That is why Bishop Chumba, the head of the Faith and Peace Initiative, is now calling on the TSC to offer jobs to women where they were born. If TSC responds positively to this request, it will be good news for female teachers who have lost their jobs due to family reasons.